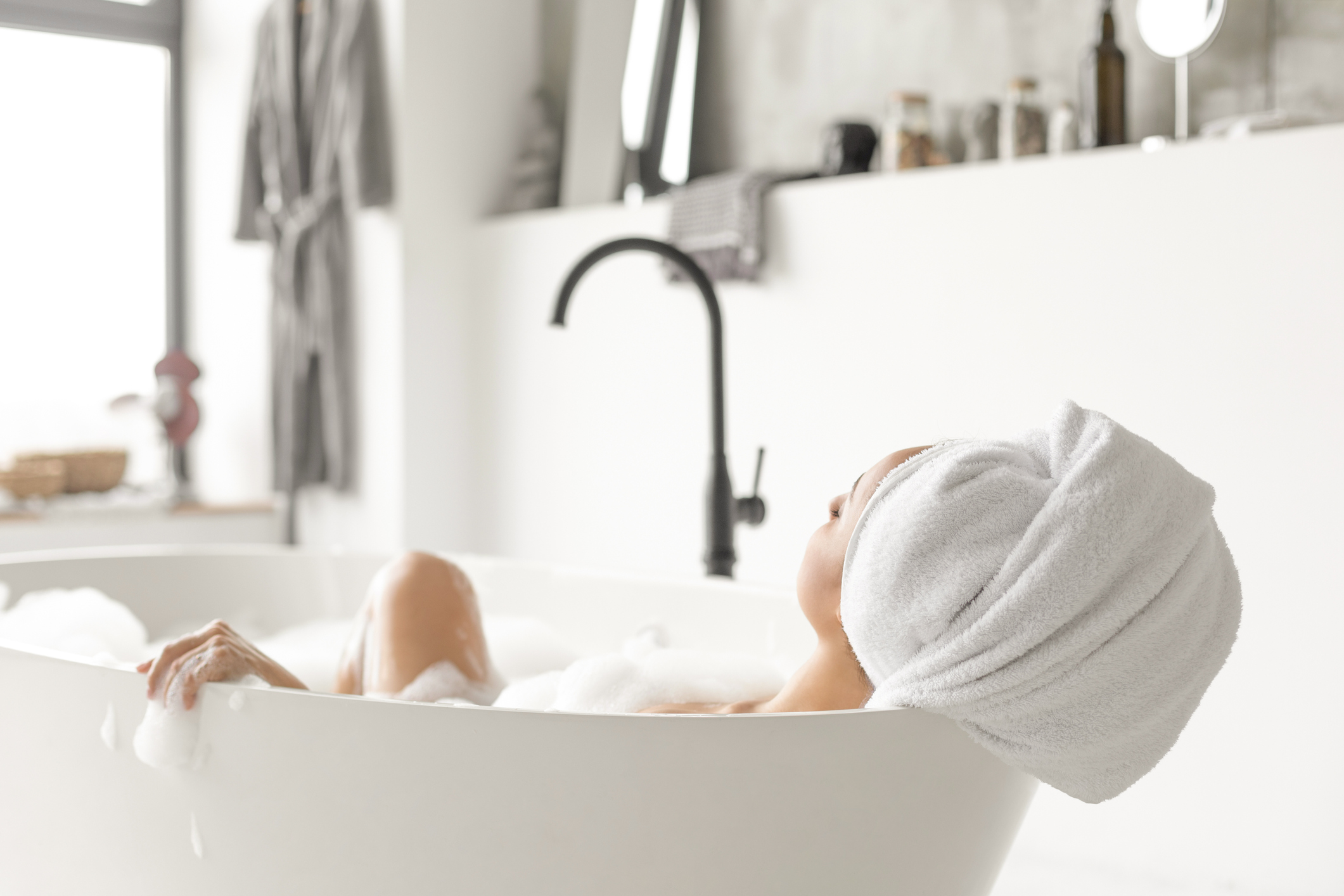 In a time of busy schedules, work, kids, and everything in between, taking time to care for ourselves is imperative. There's a quote that says "you cannot pour from an empty cup" which means that you can't give fully to others if you are empty. At Cavana Ridge, we believe that everyone deserves to treat themselves to luxury and self-care. While you may not be able to do this at our spa at the moment, there's no saying you can't attempt to recreate somewhat of a spa experience from the comfort of your own home. This blog will give you some tips to create your own spa treatment from home.
1. Set The Mood
We know, it's not the same as a day trip to the spa, but you can pretend for one evening. This event is solely for you: no pets, no kids, and no spouses. Turn off your devices or pause notifications: cell phones aren't welcome for this occasion! Make sure your bathroom is clean and free of clutter to avoid any distractions. Choose a soothing playlist and light your favourite scented candles. To take the experience one step further, grab your coziest bathrobe, some clean towels (if you have some), and your favourite drink. You could even put together a pitcher of iced water with lemon and cucumbers if you want the full experience.
2. Slather on a Hair Mask
Use a wide-tooth comb to distribute the mask and the oil evenly, then cover your head with a shower cap to let it soak in.
If your hair is chemically treated (coloured, straightened, highlighted, etc), we recommend using Olaplex N3 Hair Perfector which can repair and strengthen all hair types. If you're in a crunch and you don't have a hair mask on hand, coconut or olive oil can be used as a mask to help restore shine and softness.
3. Apply a Face and Eye Mask
If you have tired or puffy eyes, eye masks are an excellent way to reduce dark circles or redness. If you're looking to use both a face mask and eye mask, apply the eye mask first and then place the face mask on top.
Face masks are a messy-free solution to give your skin some added care. They are suitable for a wide range of skin types and should be applied to a cleansed and makeup-free face.
4. Run Yourself a Hot Bath
If you enjoy taking a soak in the tub, run yourself a bath with hot (but not too hot!) water. Add epsom salts or bubble bath; whatever suits you best. Exfoliate and remove any excess dry skin with our Lalicious Coconut Scrub to leave your skin soft and smooth. Shower off with a shampoo and conditioner to remove the hair mask.
While showering, try a thermotherapy experience by experimenting with hot water and changing over to cold water. This is good for the skin and helps improve blood flow. Always try to end the treatment with 3-5 minutes of neutral water to bring your body temperature back to normal.
5. Moisturize, Throw On Something Comfy and Relax
After your shower or soak in the tub, follow up with a moisturizer for your face and body while your skin is still damp. Use this opportunity to wrap yourself in that cozy bathrobe you hung up on the door for the occasion. Pour yourself a glass of the beverage you prepared for yourself and relax. Enjoy the silence, knowing that you took some time out of your busy day to give yourself a bit of self-care.
Cavana Ridge is focused on luxurious self-care treatments. From various spa packages to massages and hair treatments, we want you to recognize, realize or reaffirm your inner and outer beauty. While we aren't allowed to be open right now, we can't wait to open our doors to give you the full self-care treatment you so deserve!
In the meantime, feel free to check out our online store to purchase products or a gift card for someone special (or for yourself!).
We hope to see everyone soon!